Office Systems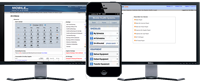 As a business, you have to have the right system. It must be fast, smart and above all scaleable


At Web Connections, this is exactly what our Web Systems give you as they are not restricted to compiled version control or updates. An example of one of our systems is detailed below which was built for an online retail company.


Retail Warehouse Dispatch System
Also know as Paperless Dispatch


Built for a client the Retail Warehouse Dispatch System had one goal to acheive which was to save the client money on paper as they had to print each order from their web site, take the paper to the warehouse, check the stock, create an invoice, take the items to dispatch who packed and shipped the product after manually entering the details on postage labels.
However, at Web Connections we saw a bigger opportunity for the client and so built them an automated system that linked directly with their web site


The new system generated a bulk picking list at any time as requested, this was checked against available stock and the orders were then ticked on mass as ready for dispatch. We installed a touch screen monitor in the dispatch bay so that the dispatcher could see each order that needed to be sent that day along with product details and images. Once boxed, the press of just one button raised an invoice and printed a postage label before marking the order as 'Packed'.


Once all orders were complete, the dispatcher confirmed this with the press of one button and daily summaries were generated for the Royal Mail and automatically emails the customers with the order and dispatch details.


Whilst all this was going on, the main ofice could see how well the dispatch was progressing and pass through more orders to the dispatch system if time permitted.


The system, still in operation today was reported to have saved the company over £60,000 in its first year in mis-picks, wrong dispatches, time and paper consumption


Why not Get Started Today by contacting us to talk about your project