About Web Connections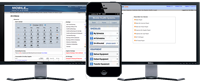 Web Connections entered the market as a business in 2006 when the outsourced web software developers being employed by the parent company continually failed to deliver working projects on time.


As a result, Tim White, the business founder and devepment programmer took all projects in house which allowed the company to develop projects on the fly which ultimately resulted in Web Connections producing one of the first truly paperless dispatch systems in the UK for The White Leisure Group.


So sucesful was this project that Web Connections started developing other Web Based applications for small to medium sized business in many different sectors from retail sales to medical groups.

The ethos of the business always stayed the same in that projects should be delivered always on time and always exceed the clients expectations but beyond that, they should never be over priced just because we could.


Today, Web Connections produce and support Web and Mobile Applications for Surgical Consultants, Guest Houses, Logistic Companies, Delivery Operations, and IT business throughout the UK.


Applications that link remote workforces to scheduling via their smart phones, connect clients to appointment managers and booking system, help delivery and logistical companies plan their drivers routes, track mileage and estimate driving time and help retail outlets manage their product lines, dispatch their goods and re-order stock. However, irrespective of what the next client will ask for, Web Connections will have a solution.


Be it Back Office Management Systems or Customer Facing Projects, the need to track sales, stock, mileage, customer flow, accounts or just about anything else for that matter. Web Connections has the answer and probably at a lot less that you might think.


Why not Get Started Today by contacting us to Talk anout your project