Mobile & Web Apps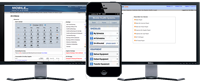 Utilising Apps has become the smart way of doing so many things and at Web Connections it is no different.


Creating bespoke applications for our clients has enabled them to speed up processes, get information more quickly and plan their operation more effectively which, in the maroity of cases has led to greater efficiency and increase in profits. An example of one of the Apps we built is shown below.


Apps are used on both PC's MACS and mobile devices allowing you and your team and or customers to use them to connect with you from wherever they are.


Mobile Apps
Mobile Health wanted to find out where all their medical equipment was and so needed some kind of tracking system. However, there was no barcoding or scanning of the instruments which were loaned to Hospitals and so the operation had to be worked through with the client in order to understand their business.


The result was a live cloud based Hospital Booking system which allocated the instruments to Hospitals. The system allocated the work load to their Technicians which in turn allowed them to book this equipment into hospitals giving them a view point of where every instrument was.


To date, no instruments have ever been reported as lost and recent updates have now enabled the company to see where their technicians are with mobile phone geo locators and better plan entire routes with the help of Application APIs


All Technicians carry a smart phone with a scheduling app writen by Web Connections which allows them to check their updated routes, hospital visits, confirm instruments and delivered to or collected from hospitals which has enabled the company to invoice their clients the same day rather than waiting for paper delivery notes to come back to the office at the end of each week


Why not Get Started Today by contacting us to talk about your project